PROUDFLESH will be playing a show at Brick & Morter with Mordred and The Ghost next Door on September 9th 2017. THE NEXT will be playing at Winters Tavern in Pacifica on August 2nd 2017 with The Cramp Ons and Dick & Jane. Jimmy will also be performing with Jennifer Blowerdryer July 30th for the Jeff Ecker Memorial at Lennon Studios in San Francisco.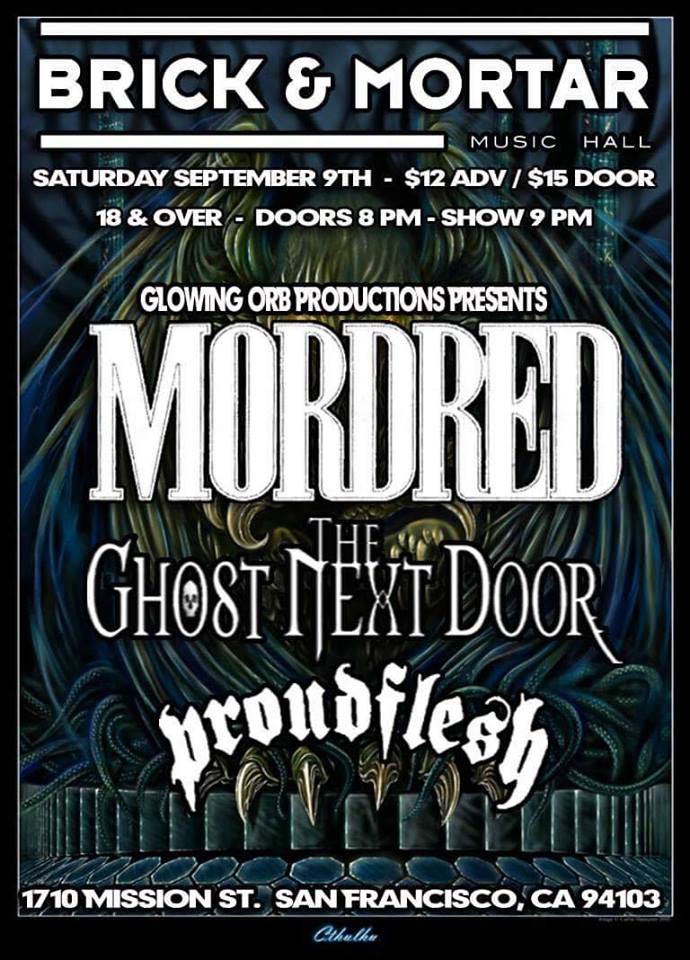 ******************************************************
June 2017
Jimmy Crucifix is recovering from Barretts Esophagus surgery. They removed the cancer and he is on the mend. He went through 3 - 4 surgical procedures starting in February this year to remove the damaged tissue. friends have set up a go fund me page to help pay the medical expenses and you can go to the link below.
****************************************************
Proudflesh show at the Knockout was the last Proudflesh performance for a fallen friend Russel Robles who worked with Sothira and Jimmy back in the Crucifix days. Sothira wants to call it quits but after that show we were offered other gigs and now Proudflesh will play a few more shows. Rest in Peace Russell Robles we will miss you.
***************************************************
May 2017
Jimmy's friend and also the drummer in Jimmy's other project Blowdryer Punk Soul passed away in his home state of New York. Chelsea Rose from Jeff's former band Bite will be hosting a memorial show for Jeff Ecker at Lennon Studios in July. Jeff was loved by many world wide he was a kind soul and never complained about anything, he loved life and we will all miss him. Rest in Peace Jeff Ecker.
---
***News Archives***
************************************************
***MUSIC NEWS 2013***
"1984"
CRUCIFIX Dehumanization Anniversary Tribute Reunion 2014 - With 3 Original Crucifix Members: Sothira Pheng & Original guitarist Jimmy Crucifix also featuring CRUCIFIX Dehumanization touring guitarist Drew Bernstein and Introducing Eric Davis of PROUDFLESH.
(THIS IS NOT A CRUCIFIX REUNION)
Show dates will be posted in 2014 and only 2 shows will be played.

****
Proudflesh have a new drummer Eric Davis who is also the
guitarist for Blown to Bits. band is playing out live now.
Eric Davis will be joining Jimmy & Sothira playing drums
for the Crucifix Tribute to Dehumanization shows.
This is the 30 year anniversary of Dehumanization

****
Jimmy's band The Next have been playing about and have
released a New CD MAd House. and Jimmy is
also playing in The Street Lyons with Former Chris Issak &
Dils drummer John Silvers.

Jimmy is recording with Gareth Holder (The Shapes) and
Mike Vanderhul (Y&T) at Moon Dog studios in Oakland.
Also members of Male Rouge are involved.



---
***Music News 2012***
Proudflesh have found a new drummer Jeffrey St.Pierre formery of
the bands Specimen & Maximillions Motorcycle club.
Proudflesh have some shows coming up with Antisect in 2012.
Proudflesh Loses drummer JSP here we go again!
Jimmy Crucifix is undergoing treatment for Liver Damage
Chemo therapy for 6 months and No Beer!

Carole Lennon of Lennon Studios had under gone treatment for a
brain tumor and is in recovery and doing good. Carole is the Owner of
Proudflesh' Rehearsal studio in S.F. and lives with Jimmy Crucifix.

---
***Music News 2011***
Jimmy's friend Phil Kennemore of the band Y&T passed away January 2011
of Cancer.
Jimmy Crucifix Quit Smoking January 12th after losing
2 friends to that awful Cancer. Rest in Peace Phil Kennemore.

Back to the NAMM show and Jimmy Crucifix Quits Smoking!
Also Proudflesh back on the hunt for a drummer again.....

---
***Music News 2010***
Jimmy Crucifix's good friend and child hood pal Kevin Carlson who also
played guitar for Aldo Nova passed away December 2010 of cancer.
Eric Lannon is back in Proudflesh to finish recording the new album and
also to perform at a few live events coming up.
Looks like David Ferguson has released some CD presents
Crucifix recordings and other bands as well who are all upset over it.
Luke Bowman call's it quits after a Brawl broke out at Metro Opera House
in Oakland, Ca after a Proudflesh show.

---

***Music News 2009***
06/01/09 PROUDFLESH are going to start work on a New Album.
The Band is in Pre-Producion at the Moment and will Start Laying Down
the Basics this week. Many New Ideas and Songs are in the works. The Band
Will be Doing the Basics all Live to Capture the Raw Edge & Drive of a Live
Performance. They will Record in there Personal & Private Studio The Loft
Located in the Famous Lennon Studios Building in S.F. with Jeff Davis doing
the Engineering. Jeff is a Local Hardcore Punk, Thrash & Metal Recording
Engineer that records most of the S.F. Bay Area Hardcore & Punk Bands.
********************************************************
***04/01/2009***
New Drummer Nick Bits Broke his foot after his second rehearsal with PF.
Take care of your foot Nick!!! So Proudflesh once again is in search of......


NEWS FLASH!

Luke Bowman is Back in the Saddle Again! Welcome Back.
After just a few Rehearsals Proudflesh did a test run Show in Portland Ore.
Luke is doing Great with Decaf and "Are you gonna finish that Burger"
The Black Bear Diner of No. Cal is the Official Proudflesh Restaurant!

---
***
R.I.P. BRIAN DINGESS
***
We are Sad to Announce that Former Proudflesh Guitarist Brian Dingess has passed away at the age of 45. Brian played Guitar for Proudflesh in the late 80's and early 90's after Jimmy took a leave of absence to work on another project in Los Angeles. Brian joined forces with Sothira to bring Proudflesh live to the stage after the debut release of the Powerbroker EP. Rest in Peace Brian! Proudflesh.