BACK
PROUDFLESH ROCK AND ROLL 1985 - 2020
---
PROUDFLESH MINI BIOGRAPHY

Former members of Crucifix, Sothira Pheng & J. Crucifix. Heavy Bass, Blasting Guitar, Pounding Drums & Screams of War, Peace, Love and Bad Relationships! Pure Raw Rock and Roll Chaos on Fire from the former ashes of Crucifix!
Formed in the mid eighties after Crucifix by Sothira / Bass & Voice, JC /Guitars & Tony Short on Drums joined in and are featured on the 1988 debut EP Powerbroker. Proudflesh played throughout the 80's & 90's with a break mid 90s and reformed in the early 2000s. In 2006 Proudflesh recorded a follow up album to the Powerbroker release with Erik Lannon on drums and the band toured Japan with Erik Lannon. After Erik left the band Proudflesh toured Germany in November 2007 with Luke Bowman from The Ruffians on drums. Proudflesh retired in 2020 and its last performance was at Benders Bar in San Francisco March 2019 for Jaycees 60th Birthday with special guest Scott Holderby of Mordred singing a few Thin Lizzy Covers.

~ PROUDFLESH 2017 ~

SOTHIRA PHENG / BASS & VOICE
J. CRUCIFIX / GUITARS
ERIC DAVIS / DRUMS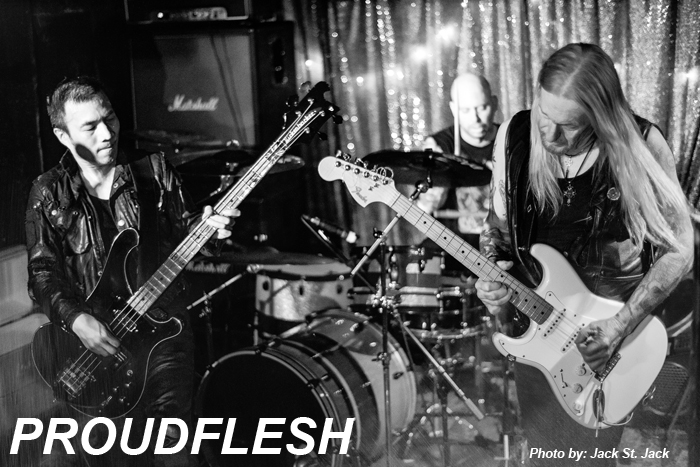 PROUDFLESH Former Members.


Tony Short / Drums
Mario / Drums
Brian Dingess / Guitars
M.K. Downing / Guitars
Tony Muth / Drums
Blix / Guitars
Erik Lannon / Drums (Album 2006-Japan 2007)
Luke Bowman (Germany Tour 2007)
Jeffrey St. Pierre / Drums 2008
---
PROUDFLESH DISCOGRAPHY


1. Across This Chaos
2. French Indocina
3. The Penalty is Grim





~PROUDFLESH 1988 Debut EP~
SOTHIRA / BASS & VOICE
J. CRUCIFIX / GUITARS
TONY SHORT / DRUMS



1. Proudflesh
2. Across This Chaos
3. French Indocina 1954
4. Carnage Again
5. My Lai My Love
6. The Black Jesuit
7. Everything Burns
8. High in the Clouds
9. And Not Fashion
10. Executive Outcome

~PROUDFLESH 2006 Debut CD~
SOTHIRA / BASS & VOICE
J. CRUCIFIX / GUITARS
ERIK LANNON / DRUMS

Jaycee Would like to Dedicate his Performance on this CD
to the Loving Memory of his Mother.
(Elizabeth)
"I Love you Mom"
********************


Sothira Would like to Dedicate his


Performance and this CD
to the Loving Memory

of his Father.



PROUDFLESH LINKS
There are few links to websites pertaining to PROUDFLESH. Check Facebook Pages. (BACK TO HOME PAGE

Jaycee Frances © 2023